Dowry is one of the deep-rooted social evils that is thriving at an alarming pace in our society. While it is undeniable that modern people oppose it, the practice varies depending on area, caste, and creed.
While it's difficult to pinpoint the exact trigger, here's a list of potential culprits:
Greediness
Patriarchal Society (Patriarchal Society)
Religious Constraints
Caste/Creed-related constraints
Insufficient formal education
Conservative Views
An urge to brag about one's social status
An unfounded sense of superiority
Ignorance and illiteracy
Lack of awareness of anti-dowry laws
From being a financial burden on a daughter's family to wasting money, this evil is secretly claiming the lives of innocent married people. To name a few, dowry deaths are more frequent in India, Pakistan, Bangladesh, and Iran than in other emerging and developing economies.
Almost every day brings news of a young woman committing suicide as a result of relentless abuse by her in-laws, or a new bride being tortured to death by her jealous husband in collusion with his relatives. The bulk of these cases arise because women refuse to give in to dowry demands.
Since witnessing this problem firsthand, I went on to search out other women who had encountered similar problems, and I was saddened to hear their stories. Since they did not carry in dowry "up to the expectations" of the in-laws, women have been burned, divorced, and forced to live an abusive life. Believe me when I say that I am referring to so-called respectable families who are well-educated in terms of the "academic institutions" from which they have graduated and the degrees they have received.
Ali Xeeshan, a Pakistani fashion designer, recently launched a powerful campaign against the dowry system.
"Accept her with love, an educated bride is a lot better than a billion currency," his campaign slogan read.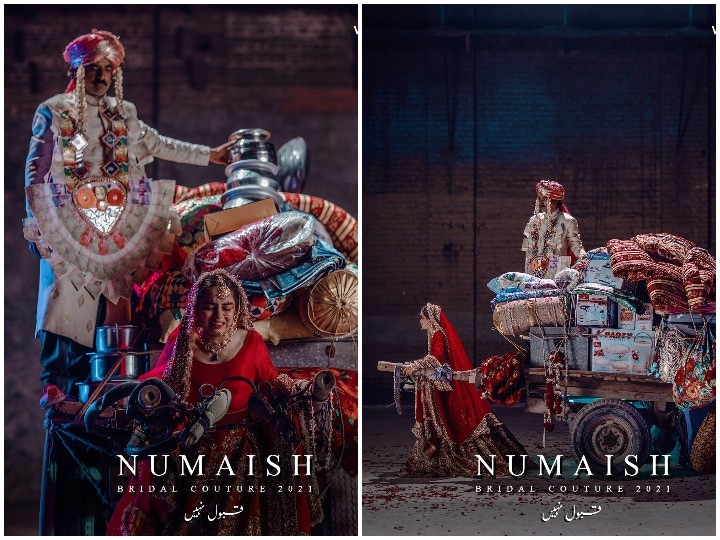 For this initiative, the designer collaborated with UN Women Pakistan. Ali Xeeshan created a fascinating and thought-provoking advertisement for his new bridal couture line, which he called "Numaish" (exhibition). In the photos, a young bride wearing a red bridal gown is seen pulling a cart filled with traditional wedding gifts such as home furnishings, electrical appliances, and furniture, as well as her husband. This exemplifies how women are overburdened by this obnoxious and entirely unnecessary social custom.
In South Asia, the dowry system is commonly used, in which the man's family makes significant demands during the marriage-fixing process.
Today, the dowry tradition is being challenged by initiatives that enable parents to educate and motivate their daughters rather than marrying them off. At the same time, dowry is considered an illegal activity in South Asia, especially in India. The dowry system is still defended by a considerable portion of the population as an important practice. Women's lack of knowledge and financial dependency on their husbands are also used to explain the practice.
Despite the depressing figures of misconduct, many women have successfully defied dowry demands, and their example should be followed by others. Many people believe that dowry is a socially appropriate practice. The girl's parents strive to satisfy all of their daughter's needs for her to be at ease as she has to live with her in-laws. The demands, on the other hand, steadily escalate to the point that her parents are constantly on the verge of going bankrupt. Meanwhile, the girl is subjected to physical and emotional violence by her in-laws.
The government has passed laws making it a criminal offence to deter this action. Furthermore, giving dowry should be made illegal to keep people from succumbing to the strain. Boys should come forward and refuse to accept dowry, and girls should refuse to agree to such demands in the future.
It's past time we stood up to this toxicity and tried to make the planet a better place for ourselves and others!